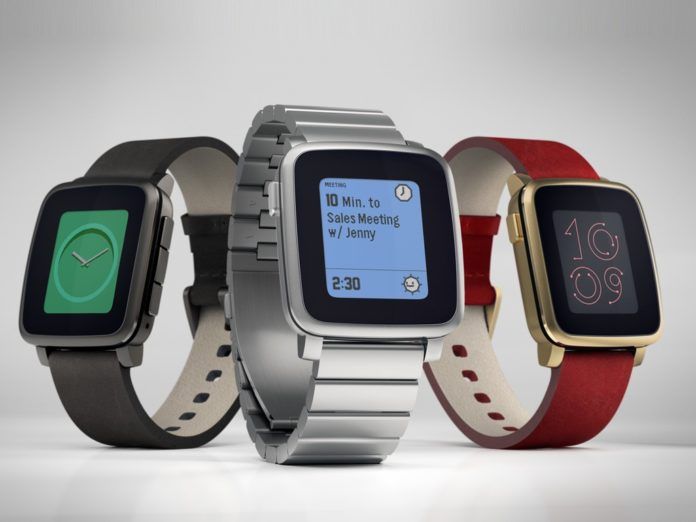 De Pebble Time is platter dan ooit, komt met een e-ink kleurenscherm en krijgt een geheel nieuwe interface mee. De Time Steel is dan weer een premium uitvoering van het toestel.
Pebble was zowat de eerste smartwatchmaker en pakt met de Time uit met een gloednieuw toestel. Niet enkel de functies zijn opvallend, maar ook de manier waarop het bedrijf zijn nieuw toestel wil lanceren, namelijk via Kickstarter. Pebble keert daarmee terug naar zijn roots, want ook de eerste Pebble werd op deze manier gefinancierd. En met succes, want het toestel wist op slechts twintig minuten de beoogde 500.000 dollar binnen te rijven.
Dunner en met kleurenscherm
Een van de grootste blikvangers van de Time is het e-ink kleurenscherm. E-ink heeft als grote voordeel dat het veel energiezuiniger is dan een lcd-display en bovendien is het ook in fel zonlicht goed leesbaar. Het grote nadeel was altijd de saaie, zwart-witte teksten of icoontjes die je te zien kreeg, in tegenstelling tot de flitsende kleuren en de helderheid van een lcd-scherm.
De Time pakt uit met een nieuw e-paper kleurenscherm, waardoor je een beetje the best of both worlds combineert. De batterij van de Pebble Time gaat nog steeds tot zeven dagen mee.
Dunner, waterdicht design
De Pebble Time is zo'n twintig procent dunner dan de originele Pebble en moet dankzij een ergonomisch ontwerp nog gemakkelijker om de pols zitten. Het toestel is bovendien volledig bestand tegen water, dus ook zwemmen vormt geen enkel probleem voor de Time.
De wijzerplaat van het toestel is van krasbestendig Gorilla Glass en de behuizing erom is gemaakt van roestvrij staal. Opvallend: de Pebble Time heeft een 'slimme poort', waardoor extra sensoren en slimme polsbandjes direct aan het horloge gekoppeld kunnen worden.
Nieuwe timeline-interface
Niet enkel de hardware, ook de software kreeg een opsmakbeurt van Pebble. Het nieuwe Pebble-besturingssysteem ordent relevante informatie, zoals notificaties, het weer, nieuws, reisinformatie en reminders, op chronologische wijze. Zo kan je met een klik zien wat er die dag zoal op de agenda staat.
Compatibiliteit
De Pebble Time werkt met alle bestaande Pebble-apps en -wijzerplaten, goed voor in totaal zo'n 6500 programma's. Qua hardware is het toestel compatibel met iPhone 4S en alle nieuwere iPhones die draaien op iOS 8.
Pebble Time is leverbaar in drie kleuren en ligt later dit jaar in België in de winkelrekken. Het toestel moet zo'n 200 euro kosten.
Time Steel
Pebble pakte ook uit met de Time Steel, een premium metalen versie van de Time. Het hele toestel is gemaakt van roestvrij staal en komt in het zilver, zwart en goud. Het uiterlijk buiten beschouwing gelaten, verschilt de Time Steel amper van de Time. De Steel is één millimeter dikker en bevat ook een betere batterij die zo'n tien dagen moet meegaan. De Steel wordt ook geleverd met een stalen en leren polsbandje.
De Pebble Time is nu verkrijgbaar via Kickstarter voor 250 dollar, de retailprijs zal 299 dollar gaan bedragen. Het toestel is eind dit jaar in ons land verkrijgbaar.
Smartstraps
Misschien wel even belangrijk als de smartwatches zijn de Smartstraps die Pebble voorstelde. Dit zijn slimme horlogebandjes die door ontwikkelaars bepaalde nieuwe functies naar je smartwatch kunnen brengen, zoals gps, NFC of een extra batterijtje. Pebble volgt hiermee een beetje het idee van de modulaire smartwatch, waarbij je zelf je toestel wat kan gaan samenstellen. Over de beschikbaarheid van de smartstraps is nog niets bekend.
Geïnteresseerd in enkele andere smartwatches?