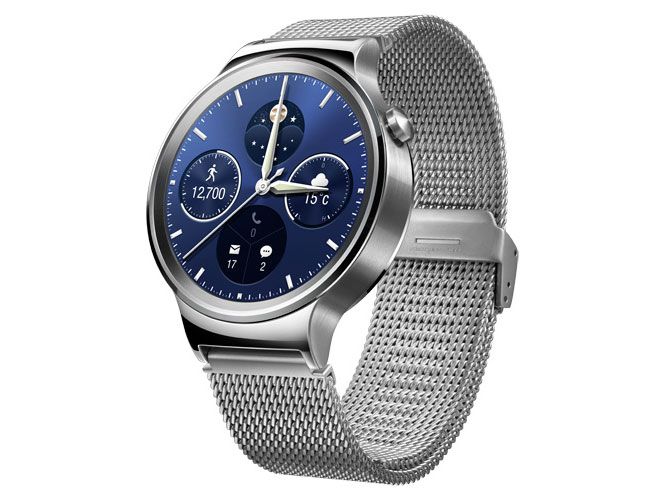 De Huawei Watch krijgt een rond scherm met extra sterk saffierglas en een roestvrijstalen behuizing.
Je zou het aan het uiterlijk van de wijzers niet meteen zeggen, maar de Huawei Watch is wel degelijk een digitaal horloge. Het ronde scherm heeft een diameter van 1,4 inch en een resolutie van 400 x 400 pixels, samen goed voor een pixeldichtheid van 286 ppi. Het contrast bedraagt 10.000:1, waardoor het apparaat volgens Huawei het meest levendige Android Wear-scherm op dit moment heeft.
De Watch draait dus op Android Wear en is compatibel met smartphones met Android 4.3 of hoger. Een Qualcomm 1,2 GHz-processor stuurt alles aan, terwijl ook 4 GB opslaggeheugen, 512 MB RAM en Bluetooth 4.1 voorzien zijn.
Verschillende sensoren, zoals een hartslagmeter, 6-Axis bewegingssensor en barometer houden jouw beweginen bij tijdens het sporten, waarbij het toestel automatisch herkent of je aan het wandelen, hardlopen of fietsen bent, je een trektocht aan het doen bent of aan het slapen bent.
De Huawei Watch komt eerst naar zo'n twintigtal landen, maar België is daar voorlopig nog niet bij. Wanneer je het toestel in onze winkelrekken mag verwachten, is nog niet duidelijk.
Ontdek hier een heleboel andere smartwatches