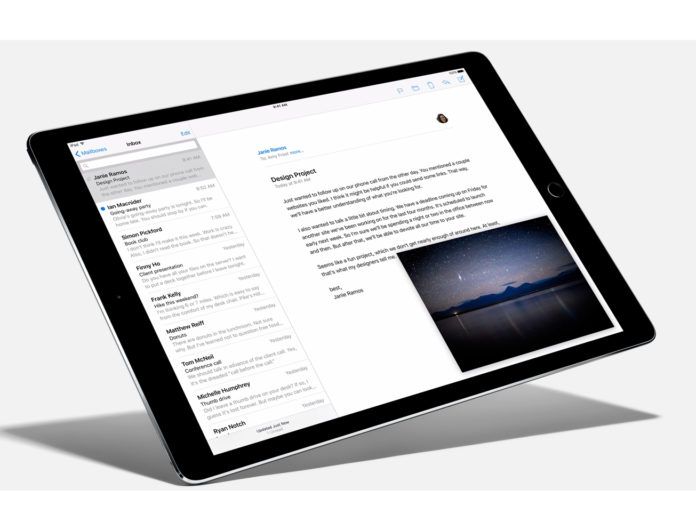 Op zijn jaarlijkse keynote heeft Apple de eerste zakelijke iPad voorgesteld. De iPad Pro is uitgerust met een A9X-chip en heeft een 12,9 inch scherm.
Waar de iPad – en andere tablets – meestal gezien worden als een toestel voor entertainment, gaat Apple met de iPad Pro voor een krachtige, grotere versie van zijn gevierde tablet. De iPad Pro krijgt een 12,9 inch Retina-scherm mee, wat een stuk groter is dan de 9,7 inch die we van de iPad gewoon zijn. Een groter scherm betekent ook meer ruimte om aan de slag te gaan en daar mikt Apple natuurlijk op.
Bij veel productiviteit hoort natuurlijk ook een sterke processor en die krijg je met de A9X, een 3rd generation 64-bit chip die dezelfde prestaties als een desktopcomputer moet bieden, of zelfs beter. De chip is 1,8 keer sneller dan de A8X die je in de iPad Air 2 vindt.
Ook qua batterijduur wil Apple je productief houden, met een batterij die het 10 uur moet volhouden. Een productief toestel is meestal iets zwaarder dan een die bedoeld is voor entertainment en dat is in dit geval ook zo, al zijn de verschillen verwaarloosbaar: de iPad Pro heeft een dikte van 6,9 mm (0,8 mm dikker dan de iPad Air 2) en gewicht van 712 gram (tegenover de kleine 700 gram van de Air 2).
Apple lanceert meteen ook enkele accessoires voor de iPad Pro: een fysiek toetsenbord (een beetje zoals de Microsoft Surface) dat ideaal is voor wie veel tekst wil inputten, en een stylus, de Apple Pencil, waarmee je notities kan nemen, tekenen, of andere grafische opdrachten wil uitvoeren. Twee logische accessoires, dus.
De iPad Pro komt in de Verenigde Staten op de markt in november aan 799 dollar (32 GB wifi), 949 dollar (128 GB, wifi) en 1079 dollar (128 GB, 4G). De Apple Pencil gaat 99 dollar kosten, het Smart Keyboard 169 dollar.
Ontdek hier enkele tablets van Apple